Updated: 3/3/16
By Marcial Bonifacio
My friends and American countrymen, it is imperative that in the midst of a constitutional crisis, the war against Christian liberty, economic turmoil, and global Islamic terrorism, you all choose a candidate worthy of the Republican nomination. Marco Rubio was correct when, in the first GOP debate, he said, "God has blessed the Republican Party with many fine candidates. The Democrats can't find even one." Indeed, diversity in race, gender, age, career, and political perspective is currently pervasive. However, I will simply highlight the relevant qualities which uniquely make Sen. Ted Cruz the most suitable for the nomination.
1. He is a trustworthy, anti-Establishment, public servant.
As far as Cruz's power permitted, he has honored his promise of opposing Obamacare, Obama's executive amnesty, and Planned Parenthood. In fact, the first bill he introduced as a senator was crafted to repeal every word of Obamacare. On the federal budget, Cruz has displayed his determination in balancing it by opposing a debt ceiling increase, in spite of foreseeing the negative optics of a 16-day government shutdown that ensued.
When repealing Obamacare failed, Cruz urged his Republican colleagues in the House to utilize their power of the purse to defund Obamacare. He did so in a 21-hour protest speech on the Senate floor, in which the rules required him to stand and remain in the chamber. Perhaps he has a strong pair of legs and a large bladder. He certainly has a large pair of proverbial testicles to stand up to his own party, which compromised its conservative principles in capitulating to the Democrats.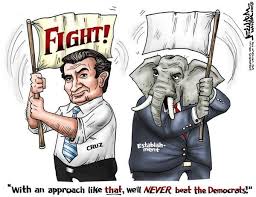 In spite of such fierce opposition from his Republican peers, Cruz did not deviate from his mandate to the American people. Thus he has been a "consistent conservative," whereas others were conservative only until Election Day. Brent Bozell III (president of the Media Research Center) points to weak willed Republicans as Sen. John McCain, Sen. Orin Hatch, and Speaker John Boehner.
Furthermore, Jesus did not go to Jerusalem to compromise with the corrupt Jewish authorities of the time, but to defy them and fulfill the pre-existing law of God.  Similarly, Cruz did not enter the Senate to make deals with the proverbial devils in the Washington Establishment, but to defy them and defend the Constitution. Would President Trump, who frankly admits and even boasts he will make all kinds of deals in Washington, be preferable?
2. He has a proven conservative record rooted in "Texas values."
Consider the landmark cases Cruz has challenged and won before the Supreme Court and his work as a U.S. senator:
• He has successfully defended the constitutionality of the Texas Ten Commandments monument before the Supreme Court.
• He successfully defended the "moment of silence" law in Texas schools in federal district court.
• He successfully defended the terms "under God" in the Texas Pledge of Allegiance.
• He defended Hobby Lobby against the Obamacare contraception mandate.
• He supported Kim Davis in her right to exercise her Christian faith.
• He successfully defended a federal law on behalf of 13 states before the Supreme Court, which bans partial birth abortion.
• He successfully defended Texas's Rider 8, which bars state funding of abortion groups.
• As U.S. senator, he drafted the State Marriage Defense Act, which would protect the marriage laws of each state in spite of the Supreme Court ruling on gay marriage. Thus it would nullify gay marriage in a state which does not recognize same sex marriage.
• He co-sponsored a bill which would recognize Jerusalem as the capital of Israel and would direct the U.S. embassy to transfer therein from Tel Aviv.
• In Medelin vs. Texas, he fought against and won a case in which the UN and World Court would infringe on the sovereignty of the U.S.
• In another victory, Cruz defended 31 states in which the Supreme Court overturned a firearms ban in District of Columbia vs. Heller. Such a victory was so significant that he was awarded the NRA's 2010 Carter-Knight Freedom Fund, which "rewards exemplary activities in the support and protection of the right to Keep and Bear Arms." Even the NRA's executive vice president Wayne LaPierre acknowledged, "Ted has fought tirelessly to defend our constitutional right to keep and bear arms, and his leadership was absolutely critical to our major victories before the U.S. Supreme Court."
• He introduced the Expatriate Terrorist Act, which revokes the citizenship of any American who collaborates with Islamic terrorists and bans those who leave the country to join them.
What comparable things has Trump done to advance the conservative cause in defense of life, Christian liberty, gun rights, and the Constitution?
3. He is an exceptional debater.
In 1992, Cruz won the top speaker award at the U.S. National Debating Championship and North American Debating Championship and was named U.S. National Speaker of the Year. Such skills could be relevant not just to the debate against the Democrat nominee, but in consultations with government officials, diplomats, and world leaders in making foreign policy as president. Even his former liberal law professor Alan Dershowitz stated that in spite of disagreeing with Cruz's politics, he is "off-the-charts brilliant." Although some may boast of Trump's Art of the Deal, his experience in foreign affairs is confined exclusively to business and economic issues, whereas Cruz's experience extends to issues of national security and international peace—matters far removed from Trump's area of expertise.
4. He could capture a large percentage of the Hispanic vote.
Aside from relishing the same strong family values of Hispanics simply by being a Republican, Cruz himself is Hispanic via his birth to a Cuban father who fled Fidel Castro's oppressive government in Cuba. He was also the first Hispanic solicitor general in Texas history and founding editor of the Harvard Latino Law Review. When Cruz ran for the Senate in 2012, he garnered 40% of the Hispanic vote, which led him to become the first Hispanic U.S. senator representing Texas.
5. He has the best chance of capturing the evangelical vote.
Some political pollsters claim that Mitt Romney's defeat to Obama in 2012 was largely due to low turnout of disgruntled evangelicals who did not find him to be up to their high religious standard, thus allowing someone of an even lower standard to clench the presidency. However, Cruz's personal Christian convictions and legislative work in defense of religious liberty (not to mention his father being a pastor) could win them over.
6. He was gracious to Gov. Sarah Palin.
In spite of Palin's betrayal to Cruz and conservatives in her endorsement of Donald Trump, Cruz remained humble and acknowledged that "I would not be in the U.S. Senate today if it were not for Gov. Sarah Palin." That is truly a man with class to have such a big heart. Such humility should be present within the temperament of the most powerful man in the U.S. Has Trump displayed such humility?
7. He knows precisely what must be done and how to do it.
Cruz's extensive legal background, track record as a senator, and grasp of the original intent of the Constitution give him the competitive advantage to make decisions on a wide range of issues with legal and constitutional implications—concerns of privacy, drone attacks, waterboarding, etc. Other candidates would have to rely excessively on legal advisors or attorneys for their expertise, especially Trump. In Cruz's younger years, he clerked for the jurist Michael Luttig on a U.S. appeals court and for Supreme Court Chief Justice William Rehnquist, two prominent conservatives. Would you want him or Trump to appoint the new Supreme Court justices whenever the most senior ones will soon retire?
8. Unlike Trump, he showed up for the only job interview (GOP debate) in Iowa.
Trump refused to participate in the last Republican debate (due to the alleged bias of Fox News moderator Megyn Kelly). "Journalists ask tough questions", stated Cruz. "If you're afraid of Megyn Kelly, then you're going to be afraid of Hilary Clinton, and you're going to be afraid of Vladimir Putin. If you're afraid of anyone to ask a question, that does not bode well for what kind of commander-in-chief you'd make."
Later, Trump revealed he already committed to a charitable event (occurring on the day of the debate), which entailed fundraising for military veterans.  He claimed that was more important than participating in a debate, which would treat him unfairly.  As a result, Cruz challenged Trump to debate him for 90 minutes, one-on-one, without any moderators before the Iowa Caucuses.  Cruz already reserved the venue and pledged to donate $1.5 million to veterans, provided Trump commit to the debate challenge.
9. Conservatives owe him their loyalty.
The first known battle in which Cruz opposed the Republican establishment was in the 2012 senatorial primary against the moderate Texas lieutenant governor David Dewhurst. Through the efforts of the Tea Party, a not so well-known Cruz began to emerge into the limelight as he consistently articulated his firm position as a constitutional conservative and his proven track record. Many predicted that the elitist donor-funded campaign of Dewhurst and his established political machinery would quash the grass roots-funded campaign of a seemingly unknown Cruz. However, not only was Cruz undefeated, his large conservative support resulted in a run-off, which eventually led to Dewhurst's defeat. Cruz proceeded to run against and defeat Democrat Paul Sadler in the general election.
In the Senate, where his conservative reputation began to shine, he continued to battle not only Democrats, but moderate and establishment Republicans in defense of constitutional principles and conservative values. As a result of Cruz's prominence, he now has the opportunity to advance to the White House, whereby he would be able to streamline his efforts with a fully Republican controlled Congress. Is it therefore not incumbent on conservatives to continue being loyal to Cruz, just as he has tenaciously been loyal to his conservative constituents?  What do conservatives owe to Trump?
10. He has a unique way of using a gun and cooking bacon.
In conclusion, my friends, I urge you all to support Sen. Ted Cruz for the simple reason that he is a trustworthy, astute, accomplished Christian public servant. Throughout all of his tenure, he has lost and won some important battles on different fronts. However, more important than winning the battles is winning the war, and the presidency would put more resources at his disposal, whereby he can continue to promote conservative values and restore constitutional principles to America's government.
Victory to Sen. Ted Cruz for God and Country!
Comments