By Marcial Bonifacio
First of 4 parts
In this proposal, I have frequently cited America's founders, since federalism (as a systematic study of governance wherein power is shared between a central government and state governments) is often attributable to them, and their intent is made manifest in a collection of their 1787 constitutional convention debates published in The Federalist. "On every question of construction," states the American founder Thomas Jefferson, "carry ourselves back to the time when the Constitution was adopted, recollect the spirit manifested in the debates and instead of trying what meaning may be squeezed out of the text, or invented against it, conform to the probable one in which it was passed."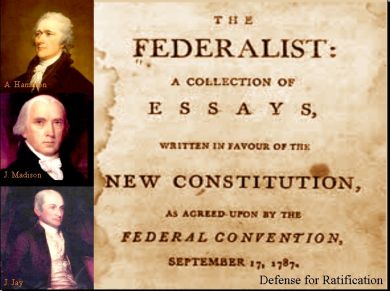 Vertical Balance of Power
First and foremost, a federalist system would divide power between the national government and state or regional governments wherein such a dispersal of power would create a vertical, as well as horizontal balance of power. The American founding father Alexander Hamilton elaborates:
This balance between the National and State governments ought to be dwelt on with peculiar attention, as it is of the utmost importance. It forms a double security to the people. If one encroaches on their rights they will find a powerful protection in the other. Indeed, they will both be prevented from overpassing their constitutional limits by a certain rivalship, which will ever subsist between them.
Close Proximity of States to the People
Second, state autonomy enables each state to govern more effectively due to their close proximity to the people residing in those states. Jefferson wrote about the U.S., "Were not this great country already divided into states, that division must be made, that each might do for itself what concerns itself directly, and what it can so much better do than a distant authority." After all, do not our local public servants have a more accurate perspective of affairs within their own jurisdiction than those governing from Malacanang Palace?
Even President Rodrigo Duterte miscalculated the duration of his war on drugs, originally insisting on a 6-month purging operation, which he now says will require one more full year. Such a reassessment is apparently due to his newly acquired national perspective and experience, as opposed to his provincial perspective and experience from being Davao City mayor for 22 years. Although federalism will benefit the people in general, according to Consultative Committee (ConCom) member Eddie Alih, it will be especially expedient to "the lost and the least because shifting to a federal setup will bring government social services closer to the poor."
Accommodation for a Vastly Diverse Populace
Third, state autonomy more easily accommodates governance of a nation comprised of more than 7,000 islands, several religious groups, and more than a hundred ethno-linguistic groups. The conquests of Spain and Japan and the American occupation have also had a cultural influence on the indigenous people, as well as trade with the Chinese, Arabs, and Malays. Naturally such diversity entails differing interests, modes of production, and social-ethnic concerns, all of which may require differing regulations or laws designed for the unique circumstances of each state or region.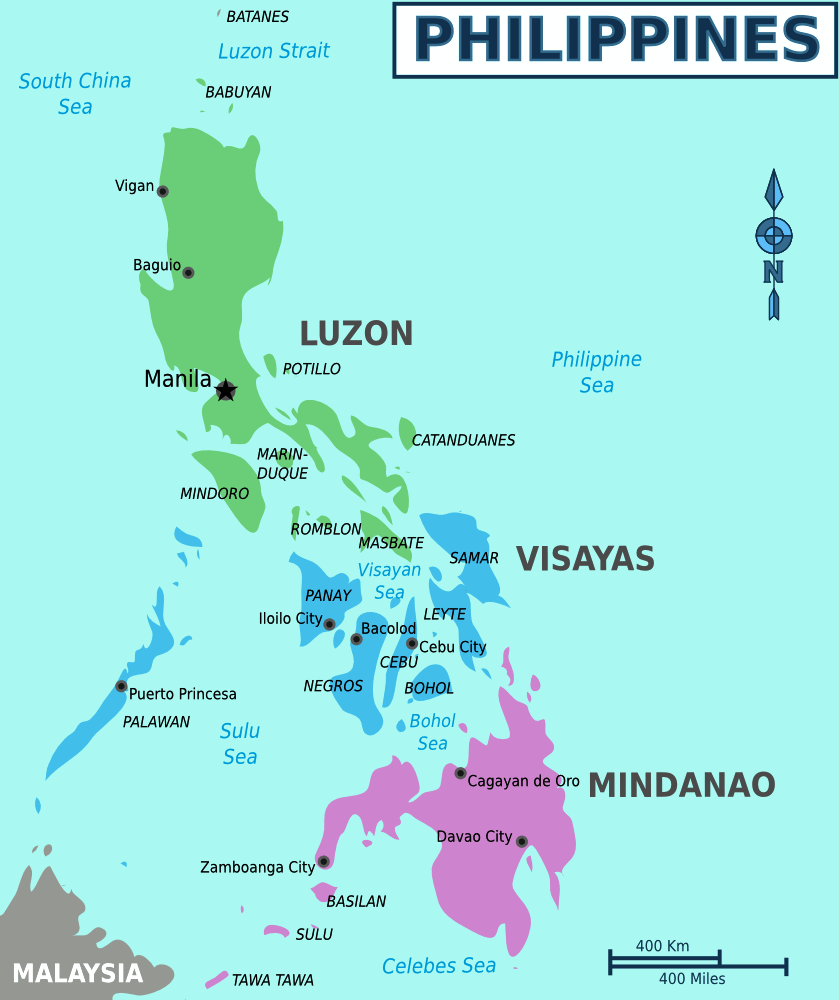 Now consider some actual examples of federalism taking effect in America, which betoken unique variations in law, taxation, economics, religion, individual liberty, and culture. The state of Utah is heavily populated by Mormons, while the mountainous state of Tennessee and Alabama are pervaded by evangelical Christians. Recreational marijuana is legal in California wherein same-sex marriage and a large Filipino populace co-exist.
Massachusetts has mandatory health insurance and permits open carry of a firearm. New York has the highest taxes, the most stringent gun control laws, business regulations, and the highest rate of fetal abortions. (Perhaps those are the "New York values" to which Senator Ted Cruz was referring in his 2016 presidential primary run against Donald Trump.)
Florida and Texas have the lowest income tax rates, no mandatory state income tax, and they happen to be the most favorable states for bass fishermen due to their numerous lakes, rivers, and streams. Philadelphia, the birthplace of America's constitution, levies a sugary drink or "soda tax." For advocates of capital punishment, the options are varied—electrocution in Kentucky, gas inhalation in Arizona, firing squad in Utah, and hanging or lethal injection in Washington.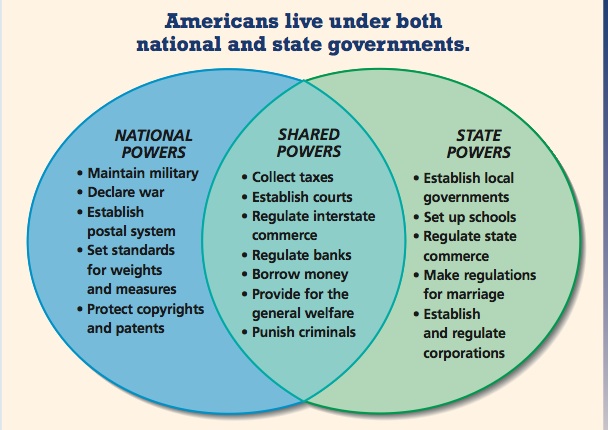 Cannot our countrymen relate to such varying factors? Consider similar issues of which some are controversial as well as divisive but could easily be addressed by the states or regions—the drug war, the Mindanao conflict, RH Law, the death penalty, marriage dissolution, same-sex marriage recognition and benefits, jeepney fare hikes, VAT, etc. In terms of core competencies or comparative advantages, Cebu is the exclusive producer of dolomite and graywacke, while Capiz and Ilocos Norte exclusively produce cotton. Palawan and Boracay are the top tourist destinations of the Philippines, due to their beaches and the latter's party ambience.
Furthermore, possessing regional or state sovereignty under federalism, allows each state or region to address such issues pursuant to their unique geographical or demographical situation. "It is one of the happy incidents of the federal system," contends American Chief Justice Louis Brandeis, "that a single courageous State may, if its citizens choose, serve as a laboratory; and try novel social and economic experiments without risk to the rest of the country." Indeed, impoverished regions can learn from and mimic affluent regions by scrutinizing their economy, tax system, business regulations, and commerce practices, while education administrators in one region can do likewise with successful schools in other regions. In turn, such competitive regions could eventually decongest Manila.
Such a diversity would naturally appeal to the marginalized or disaffected members of society (e.g., the New People's Army, Abu Sayyaf, the Moro Islamic Liberation Front, the Kalipunan ng Damayang Mahihirap, the Lumads, and Cordillera). While there is much controversy over the constitutionality of the Bangsamoro Basic Law (BBL), the establishment of a Bangsamoro state or region (to replace the Autonomous Region of Muslim Mindanao) via federalism would render the BBL and Bangsamoro Organic Law obsolete, since all states or regions would be equally autonomous simultaneously, at least eventually.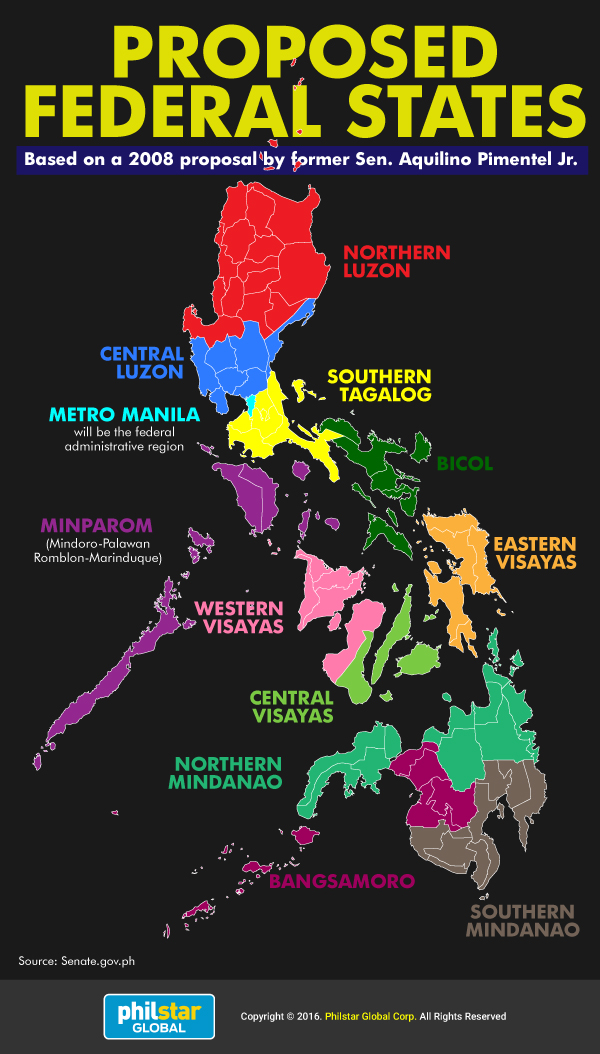 This is excerpted from "The Philippine Case for Federalism, Its Form, and Its Safeguards" by Marcial Bonifacio. Parts 1, 2, 3, and 4 are accessible by clicking on their links.